Our Digital Out-of-Home First at Edinburgh Airport
Led by the vision of our CEO, Amber Williamson, Digital Willow designed and implemented Edinburgh Airport's first-ever DOOH advertising campaign for our client Visit Isle of Man with the help of the team at StackAdapt and using JC Decaux's digital billboards.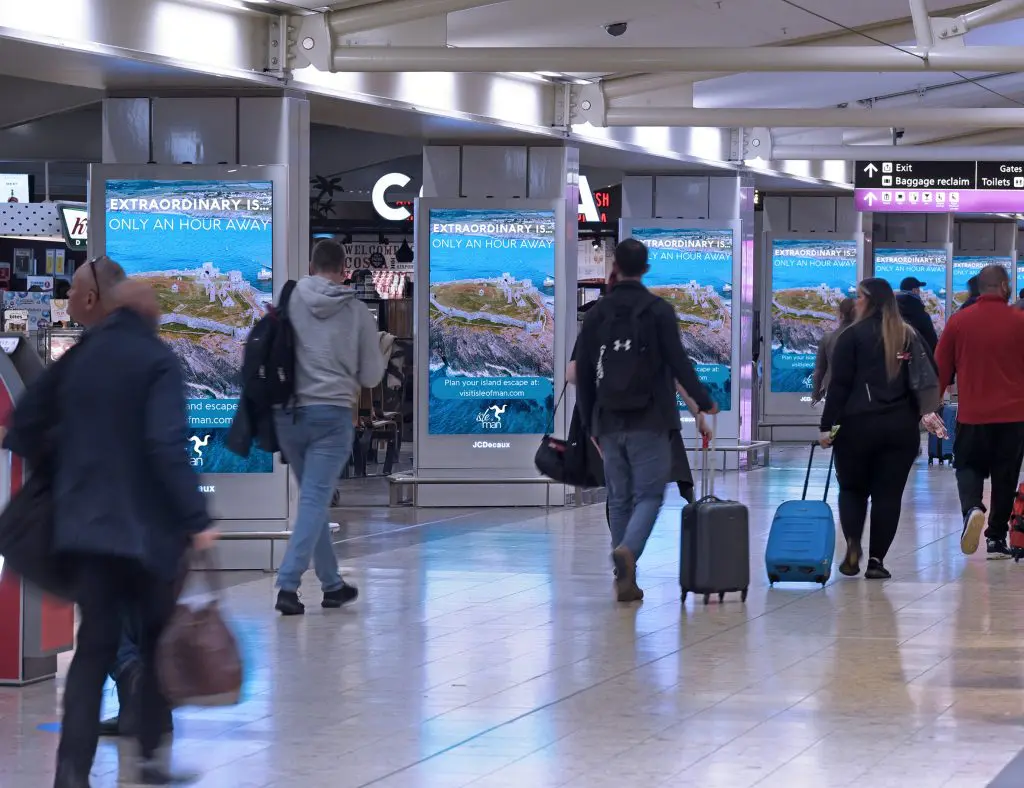 As the official tourism branch of the Isle of Man government, it has been Visit Isle of Man's long-standing goal to increase tourism to the island year after year. The ultimate target of these efforts will be to attract 500,000 annual visitors from around the globe by 2032.
At the beginning of this year (2023), Digital Willow began implementing a programmatic DOOH advertising campaign to help our longstanding client achieve this goal by utilising the very best of the newest digital marketing technology available.
As recalled by CEO Amber Williamson in a feature article for ExchangeWire, "Our strategy was to target major transportation hubs to the Isle of Man in seven different cities using DOOH displays. These digital displays featured stunning images of the Isle of Man, accompanied by a clear and engaging message tailored to each location."
Read on to find out how we were able to implement a captivating and location-sensitive digital marketing campaign using digital out-of-home technology.
What is digital out-of-home (DOOH) advertising and how does it work?
Digital out-of-home advertising has all the appeal and functionality of traditional out-of-home advertising. This includes its ability to capture the attention of a large audience instantaneously, especially in a busy advertising space such as a city centre where it can reach hundreds of people in a very short amount of time.
Unlike OOH media, however, digital signage can change easily and wirelessly, keeping costs low. These can be digital billboards or any other type of digital screen, e.g., at a bus shelter, or in a train station, usually where public footfall is at its highest.
The ability to change what appears on-screen immediately means that DOOH campaigns are capable of generating extremely personalised advertising. As it is so customisable, it can be used to reach a specific target audience and can even be tailored to day-by-day changes such as cultural events or the weather. According to research, 'the digital out-of-home advertising market is expected to grow at a compound annual growth rate of 10.35% over the forecast period to reach a market size of US$33.372 billion in 2026 from US$16.750 billion in 2019' (Research and Markets, 2021).
Personal, dynamic and context-dependent DOOH advertising and Place-Based Marketing
The Isle of Man is a small island in the Irish Sea situated between the northwest coast of England and Ireland. Since the beginning of 2021, Digital Willow has been appointed by Visit Isle of Man to lead on a number of digital advertising campaigns.
Throughout the years we've been representing VIOM on the world stage, and have run several distinct campaigns with various creative attributes.
Towards the end of 2022, our commitment as an agency to remaining at the forefront of the latest digital marketing trends and tech led our CEO Amber Williamson to suggest implementing this geo-targeted DOOH campaign.
She states that the idea was to establish these various digital out-of-home advertisements across the major travel hubs connected to the Island. This included placements in London, Liverpool, Manchester, Bristol, Dublin and Edinburgh.
One such location was Edinburgh Airport which had recently received new instalments of some 43 portrait digital screens by JC Decaux. As Scotland's busiest airport, Digital Willow understood immediately that this was an opportunity that couldn't go to waste.
Each digital display showcased images of some of the Isle of Man's most breathtaking landscape scenery, accompanied by location-specific information i.e. the travel time to the Isle of Man from the connection points. For example, from Edinburgh Airport, 'Extraordinary is only an hour away'…
As the first-ever digital out-of-home advertising to be run in Edinburgh Airport, Digital Willow has once again proven its trail-blazing status in the world of digital marketing. Not only have we been able to successfully programme this new technology to create a highly customisable and eye-catching marketing campaign but we have also put ourselves at the forefront of an important moment in the history of digital marketing.
To supplement the success of the DOOH advertising, we ran mobile banners in the targeted areas to reinforce the advertising message to individuals who had likely been exposed to the DOOH ad. Our geo banners served close to 3 million impressions.
If you're interested in learning how a DOOH campaign could help your business achieve its goals contact Digital Willow today.